Developing Talents – We're on it!
Young professionals
You want to make a direct impact? For our ASPIRE trainee program and a variety of direct entry positions we are looking for people like you who want to dive in and find solutions. With our great team at your side, we will give you the best possible support and ensure your career is off to a good start. Are you on it?
Become a trainee in one of our 9 tracks
At Arvato, the clocks tick faster. This also applies to your career. As a trainee, you will be part of our ASPIRE trainee program to prepare you for the best prospects in our company. Our 18-month trainee programs are based in Germany and provide the opportunity to gather working experiences at our international locations. The trainee program starts every year in October. So stay tuned and apply when we're looking for our next ASPIRE newbies in 2024!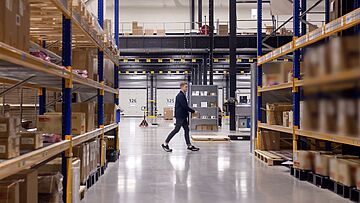 A day in the life of a trainee
Lewin is a trainee in Logistics Management. Learn more about his experiences in the trainee program and his daily routine.
What awaits you with us
Attractive conditions
We offer you an attractive salary package and are happy to top it off with discounted job tickets, company sports courses, Bertelsmann employee discounts and corporate benefits.
Unlimited contract
You are an important part of the team. That's why we plan with you for the long term and you will receive a permanent employment contract from day 1.
Target-oriented development
We want you to develop further. As a trainee, we therefore offer you targeted training and development measures to help you grow into your expert or management role.
Real teamwork
We make it easy for you to get involved. With flat hierarchies, room for your own ideas and fast decision-making processes.
International Mindset
Diversity is the foundation of our business success. We are committed to a respectful, appreciative working environment and equal career opportunities for more than 17,000 employees in 17 countries.
Flexible working models
We support work-life balance with full-time, part-time, mobile or hybrid options. Arrangements vary depending on the role & your personal needs like flexible working hours, up to three days a week in mobile office, or specific agreements.
Overarching network
Share your experiences with other trainees at various networking events and build your network within the Arvato world.
About our benefits
Find our answers to common questions about our ASPIRE trainee program.